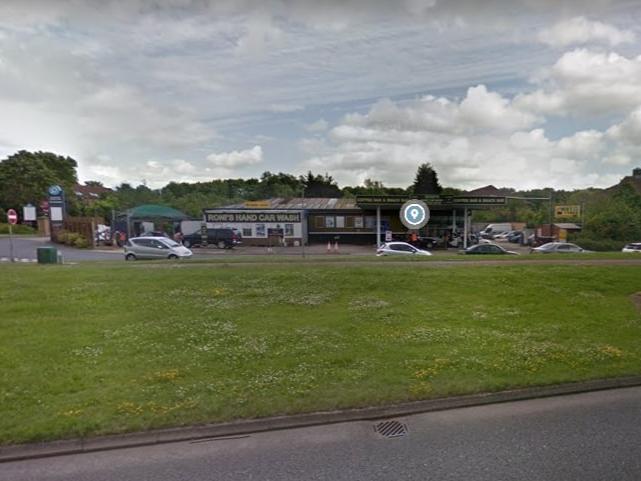 The mast is one of seven proposed to be part of an £8.7 million project, led by Milton Keynes Council, to test the benefits of the new high speed technology.
The consortium involves controversial Chinese tech giant Huawei as well as BT, Open University, Tech Mahindra, Smart City, City Fibre, the Connected Places Catapult and the Satellite Applications Catapult.
A Government ban on Huawei's technology is due to come into force in 2027 but the council says the testbed is due to run until 2025 at the latest.
The mast would be sited on the grass verge opposite the hand car wash
Some residents aren't impressed by the proposal.
One said: "The fact that this application is being pushed through during lockdown when people are not able to meet with neighbours to oppose this application is seriously wrong!
"Residents don't feel safe to visit the council offices to view the details, some elderly residents are not able to access the website to see details."
Other controversial applications have been decided in the same way by council planners, who have said they are complying with Government rules on keeping the planning system going.
The new mast plan is just 130m from a previous application that was withdrawn in the face of opposition.
It's now been proposed to place the 22.5 metre tall (73ft) mast near the car wash and Peartree Inn Bridge, in Waterside.
"The height of the mast would be an eyesore when entering or leaving Peartree Bridge by this route," says another objector.
Beacon Comms, which is supporting the council's bid to build the masts, says it has reviewed the site of this one in the light of objections. Other masts have already been approved.
They say they have carried out a comprehensive survey of potential sites to find the best location for maximum coverage.
It is proposed to make the mast a similar colour to tall street lamps "so that it may assimilate into the surrounding street clutter."
It is set to loom well over signs and lamps but they say it is "similar in height to other 5G poles".
And they say the 22.5 metres are the "minimum capable of providing the technological improvements sought whilst ensuring ICNIRP (International Commission on Non-Ionizing Radiation Protection) compliance."
But that does not satisfy one objector who writes: "Whether what you state is within compliance, I will, if the mast is built petition the local residents association and Woughton Council to take regular readings and insist the mast is removed if the compliance is not kept to."
Another resident has called for the council to use the "precautionary principle" to refuse 5G technology.
The ICNIRP, on which the council bases its telecoms policy, says that power restrictions on 5G "remain far lower than that required to adversely affect health."