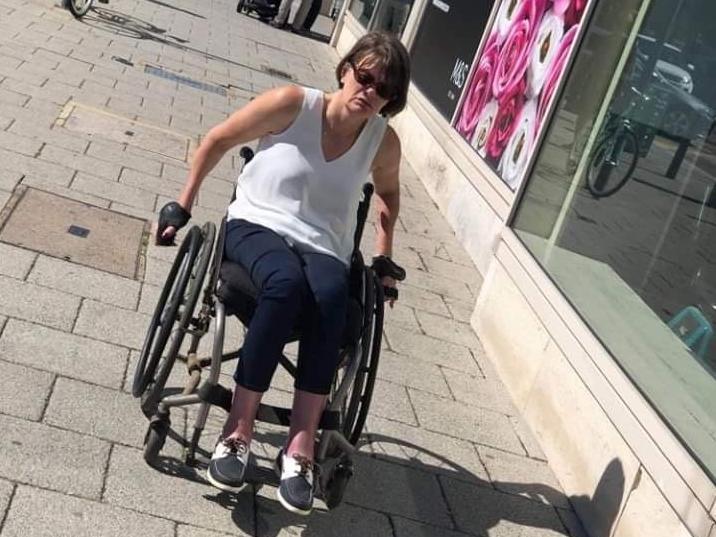 A woman who has been paralysed since the age of 16 is set to take on a wheelchair marathon around Milton Keynes' shopping centre.
Sharon Mynard is dedicating her marathon efforts around centre:mk to the memory of champion showman Rory Gilsenan, who died earlier this year from a brain tumour. She is hoping to raise £10,000 for the national charity Brain Tumour Research in Milton Keynes.
The 53-year-old, who broke her neck in a riding accident, leaving her a tetraplegic, had to postpone her original attempt earlier this year due to the pandemic.
Sharon Mynard
She has been training hard, covering almost 20k in her most recent big push and said she had 'more in the tank'. Her hands take a real bashing, gripping the wheels to maintain momentum, reducing to tatters quite a number of pairs of gloves, worn to try and minimise blisters.
Sharon said: "When I had my riding accident, it was devastating. I felt my life was over. But I still went on to get married and although we are no longer together, we were married for over 20 years. I have a lovely 26-year-old son, Toby, from that marriage.
"And of course I have my horses, which are the reason I get up in the morning and the reason I got to know Rory. Rory and I were great friends for more than 20 years and he rode some of my horses, even taking one – Dexter's Puzzle – to the Horse of the Year Show a couple of times.
"It was absolutely tragic that such a lovely man, with such a gift for getting along with people, should be struck down with brain cancer. Although Rory battled with downright dogged determination, even winning at the Royal International Horse Show at Hickstead while undergoing treatment, he passed away 18 months after diagnosis with a glioblastoma multiforme (GBM) in April this year."
Sharon Mynard
Sharon – who lives near Aylesbury where she also has a stud and livery yard – will begin her marathon challenge by the Guest Suite in Centre MK at around 8am on Sunday (September 6) and will do circuits inside the shopping centre for about two hours until she needs to move outside because of shoppers.
She is hoping to complete her charity pushathon in seven to eight hours.
To donate to Sharon's fundraising, visit here