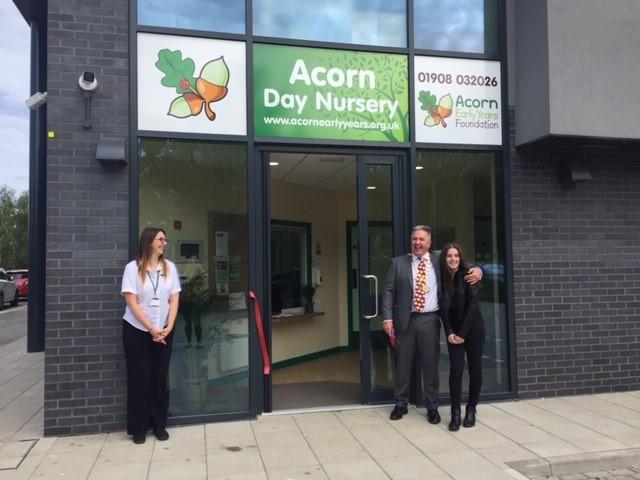 The private nursery is run by Acorn Childcare, who have eight other nurseries in Milton Keynes.
It was opened yesterday by Mayor Andrew Geary. He was accompanied by his daughter Rebekah, who attended the very first Acorn nursery in Castlethorpe more than 13 years ago.
Acorn's chief executive Zoe Raven said: "We're thrilled to bits with the new nursery and are looking forward to adding some fun and laughter into the city centre.
Mayor Andrew Geary and his daughter Rebekah open the new nursery
"It's a shame that we couldn't have our usual kind of opening party, but we'll have probably have one for our first birthday next year instead. We're very excited about working in partnership with the YMCA, and we have a great team of staff in place, who are looking forward to welcoming their first children next week."
The new nursery has its own premises within the building, with purpose-designed playrooms which both have access to outdoor play areas. In common with Acorn's emphasis on outdoor play and learning, the nursery will also be taking regular trips out for forest school sessions.
For further information about the nursery or to book a socially distanced tour, call 01908 032026 to speak to Kirby, the nursery manager or email ymca@acornearlyyears.org.uk or visit http://www.acornearlyyears.org.uk .
Inside the nursery