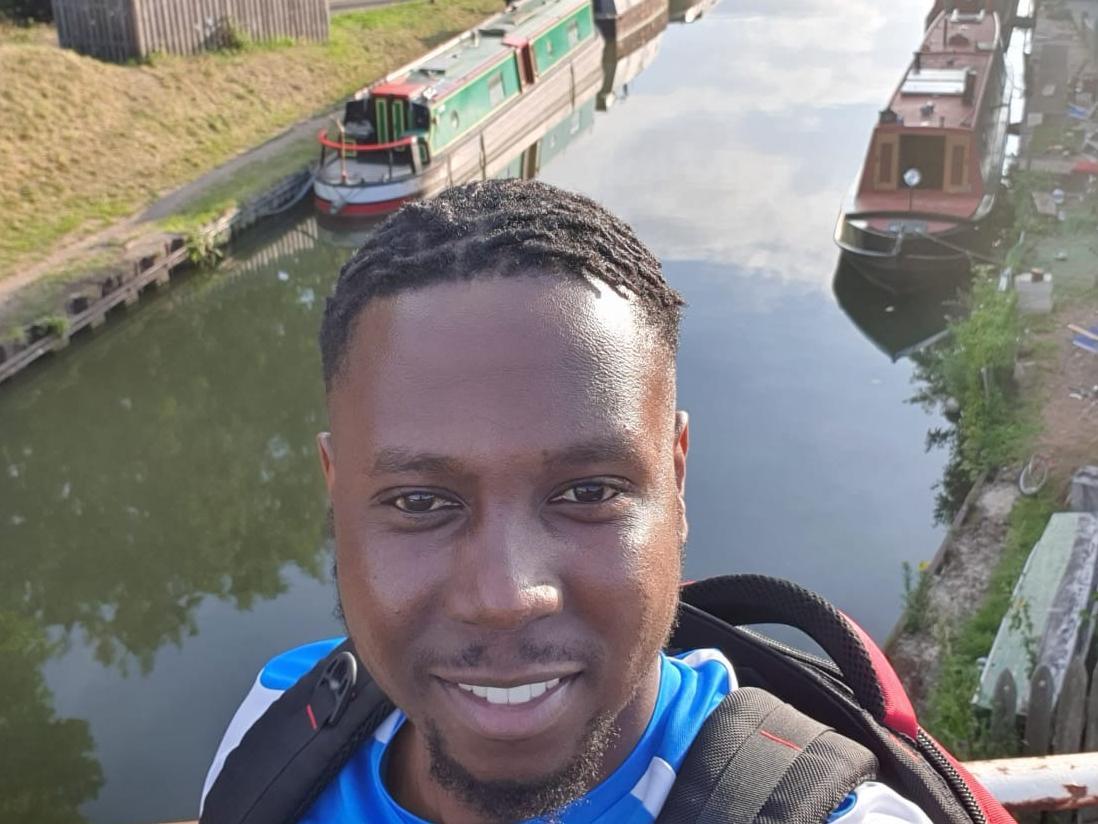 A man from Milton Keynes has criticised Thames Valley Police claiming he was the victim of racial profiling and assault – with unreasonable force or justification.
Ranga Nasho, 29, describes himself as 'black with tiny dreadlocks'.
He has complained to Thames Valley Police and the IOPC about the incident which happened just after 6pm while he was driving home from Swindon on Saturday, August 15.
Ranga Nasho has made a complaint to Thames Valley Police
Mr Nasho says the alleged incident left him feeling humiliated and betrayed.
He said: "I noticed a BMW 3 series police estate car in my rear-view mirror just after the London road roundabout on the A421 in Buckingham.
"Not thinking much of the police car, I continued enjoying my music on my drive home until I reached the roundabout which connects the A422 to the A5 in Old Stratford, Milton Keynes.
"By this point, the police car had been following me for approximately 15 minutes and had made no effort to overtake, pass or position itself in any of the various lanes on the roundabout, instead choosing to stay behind me.
"At this point I started feeling slightly unnerved, since I was driving sensibly, adhering to the speed limit, and I knew that my car's insurance and tax details were in complete order.
"The events that took place when I stopped at the red traffic lights by Abbey Hill roundabout in Milton Keynes were nothing short of horrifying.
"The marked police car that had been following me flashed its lights and blocked me from behind, whilst another two extra police cars (one marked, one unmarked) came out of nowhere and drove right in front me, creating a barricade.
"Around six police officers, in all three cars came charging out of their cars towards my car attempting to open my car doors without requesting consent or my ID.
"Officers handcuffed me aggressively with unreasonable force, whilst I was shouting and asking in a state of confusion: "What's going on? Why am I being handcuffed?" I didn't receive an answer and was instead put into the back of one of the police cars.
"Now feeling distressed, belittled and victimised, I repeatedly asked both officers to untighten my handcuffs which were harming my wrists due to the tightness. Both officers ignored this request even though I was in pain. I have never been made to feel more worthless or degraded in my life.
"To my disgust and disbelief, both officers provided the following explanation for the vehicle stop: 'The reason we have pulled you over today is because your car has a 'marker' on our database of someone known to be violent. This is the reason we blocked your vehicle as well as place you in handcuffs, to stop you from escaping or getting violent towards the police officers'."
Mr Nasho says he was then taken by the officers to the Shell Garage by Stacey Bushes.
He added: "When we arrived, the officers began searching my car without my permission as they continued to claim that they were just searching for my ID card.
"During this period, I carried on asking the police officers to untighten the handcuffs on my wrists as they were hurting me. They continued to ignore my request.
"During this ordeal, I began the process of questioning the officers in charge why someone like myself, of whom had never been arrested beforehand, holds no previous criminal convictions and holds a full UK drivers licence on a car that has insurance, MOT and road tax would be deemed a 'violent' person by a police database.
"Not only did the six officers involved fail to check that my vehicle had never been involved in any reported violent encounters previously, they also failed to act in accordance of the duty of law by failing to confirm the correct identity of the individual registered/driving the vehicle, choosing to label me as a 'potential threat or criminal' simply because I am a black with tiny dreadlocks driving a black Audi A3.
"The officers also decided to apply unnecessary and unreasonable force by handcuffing me, even though 6 police officers were present and surrounding me, meaning there was no way I could have escaped.
"I would like to reiterate the point that for someone who has never been on the wrong side of the law, I am flabbergasted, appalled, traumatised by this experience of racial profiling by Thames Valley Police, and I demanding to see the officers and duty inspector to be held formally accountable for this racist example of policing.
"The dagger in the chest came when the officers failed to explain why my car had a 'marker' on their database, is the algorithm on the police database prejudice towards people of colour and non-English sounding names?
"What I was also infuriated with was the officers simply refusing to take responsibility for this outrageous mistake, instead choosing to pass the buck to the duty inspector.
"I am demanding a formal apology for this unfair treatment at the hands of Thames Valley police.
"As an innocent black man and human being, I felt humiliated and betrayed by a system that is 'designed' to protect and serve me.
"The events that took place on Saturday have left me scarred and struggling to sleep due to continuous flashbacks of the horrific ordeal at the hands of Thames Valley police.
"After the aggressive steps the officers took against me without carrying out their due diligence, I was infuriated by the insincerity of the officers when they mentioned, "We apologise for the inconvenience we might have caused" as they decided to finally let me go."
We approached Thames Valley Police for a comment in response to Mr Ranga's claims.
The force would not go into detail but confirmed a complaint is being looked into.
"A complaint has been made to Thames Valley Police, therefore it would be inappropriate to comment while the complaint is being investigated," a spokesman for Thames Valley Police said.