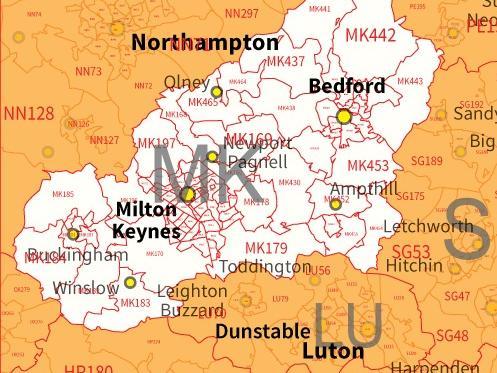 Luton and Northampton both appear on this week's official watchlist, published by the government, of places showing a concerning spike in infections.
Luton has now been designated an "area of intervention" and a second lockdown is a real possibility. Its council has already cancelled the re-opening of gyms and is keep play areas closed. Extra testing facilities are being launched across the town.
Northampton is classed an official "area of concern" for the government, with 47 new cases in the past week. Leisure facility re-openings have been also cancelled here and residents have been told to work from home, avoid public transport and not to meet anyone from outside their own household or bubble in indoor spaces.
MK is sandwiched between three town with alarming Covid infection rates
Meanwhile Bedford continues to have a significantly higher than average infection rate and the borough is awaiting the results of a 'deep dive' investigation from Public Health England (PHE) and the Joint Biosecurity Centre.
But in Milton Keynes, sandwiched between these towns, it is a very different story. The city sits happily close to the bottom of a list of all the local authorities in the UK for Covid infections. This week it was at number 278 out of the 315 authorities for total reported cases per 100,000 population over seven days.
There have been 867 cases in MK since the start of the pandemic (This includes Pillar 2 tests in the community as well as Pillar 1 tests through the hospital) and there has been no Covid-linked death at MK hospital since July 4.
It is though the city's generous green spaces and generally less crowded living conditions play a factor in the much lower than average infection rate.
The government's watchlist table
But Public Health officials are warning residents not to get complacent.
Milton Keynes Director of Public Health, Muriel Scott says people must continue to "remain vigilant" about the spread of the virus.
"As lockdown lifts we've all got to do our part, which means remaining distant, regular hand washing, staying at home and seeking a test if you have symptoms of the virus, and following all the latest government guidance," she said.
"Covid-19 will take every opportunity it can to spread, it won't be taking a break so please stay alert and stay safe."