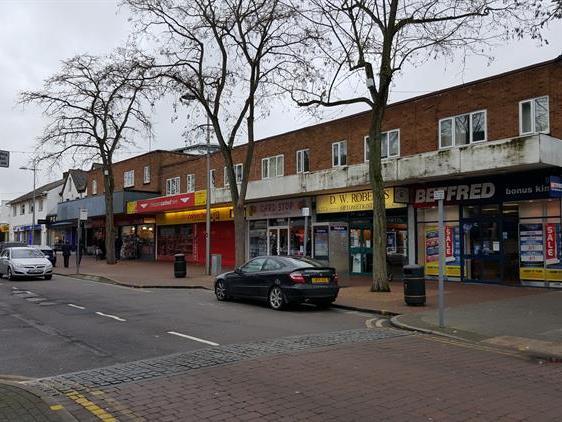 Furious traders in Bletchley's Queensway say they have have suffered severe loss of business – some of them as much as 50 per cent – ever since the council introduced social distancing measures after lockdown.
A few shop owners say the situation is so bad that they are even considering suing MK Council over loss of business.
The safety measures mean part of Queensway is closed to traffic, and traders say this is inconvenient and unnecessary. Some parking bays are also closed.
Queensway in Bletchley
Market stallholders are now banned from parking their vans next to their stalls. They have voted with their feet to trade elsewhere and this has resulted in the virtual demise of the town's traditional market. One popular stall selling children's clothes has even abandoned its usual pitch and set up in the local Conservative club car park.
Meanwhile ongoing works by Network Rail means the entrance to Buckingham Road – a popular access route to Queensway – has been closed for weeks while contractors remove Bletchley flyover as part of the East West Rail project.
The final nail in the coffin has been a sign at the entrance to the town, on the old B&Q roundabout, intended to warn of these works. But instead of stating which roads are closed, it announces: "Queensway is closed", say traders.
"The result of all this has been devastating for all of us," said Keith Burgess, who is the manager of Palmers Butchers, one of Bletchley's most popular shops. "We keep complaining but nobody seems to be listening and the council doesn't seem to care," he said.
This market stall has abandoned its traditional roadside pitch (pictured) and set up shop in the Conservative Club car park.
Mr Burgess said the effect on trade and inconvenience to customers was so bad that Palmers is considering moving out of Queensway completely.
Another shop owner, Jim Marsh, runs Fabric World, a store that has drawn customers to the town for the past 50 years.
"It's terrible," he said. "Many of us have suffered a 50 per cent loss of trade. We were closed for months during lockdown then we come back to find half of Queensway is closed off to traffic.
City Alderman Paul Bartlett has also attacked the council's scheme, claiming it is "discriminatory".
He said: "Bletchley, the home of Bletchley Park has had its market decimated and other traders are losing their livelihoods due to schemes there.
"Some actions are probably discriminatory as they disproportionately affect those who are elderly and with disabilities."
Milton Keynes Council launched similar schemes in Newport Pagnell and Stony Stratford high streets. The Newport Pagnell scheme was scrapped after a few days due to traders' protests and the Stony schem is currently under review.
But it seems there is little chance of a similar U turn in Bletchley.
An MK Council spokesperson told the Citizen " In June we were given a very short window to prepare and consult on plans to help high streets to re-open safely. However, we did share these plans with local representatives.
"The plans for each of the nine different high street areas were always meant as temporary measures and were designed to be adjusted if needed. We've streamlined the application process for a Tables and Chairs Licence and waived the £100 fee so they can place furniture outside their premises to boost trade and help customers to socially distance.
"We've already responded to feedback from the local community in Newport Pagnell where we removed the temporary one way system after monitoring it for a few days. In Stony Stratford we consulted the Town Council and Business Association before introducing temporary barriers where queuing was an issue. Stony Stratford Town Council agreed to replace the barriers and next week we will make these changes as well as introducing a 20mph speed limit along the high street to make it safer for shoppers.
"In Bletchley we consulted with over 50 businesses in the main shopping areas and 84% of those were in favour of temporarily closing part of Queensway and the Town Council has recently asked us to extend the closure. A number of businesses also felt that closing the road and encouraging more market traders would encourage more visitors. They told us that cars parking on pavements was a big problem so we've stepped up parking enforcement and put up bollards to prevent this."
The spokesman added: " Before the Covid-19 pandemic, there were up to 10 regular market traders operating over four days of the week on Queensway and on many days this figure was down to one or two traders. After reopening of shops many stalls chose not to come back but since the temporary closure has been introduced there have been five new applications from market traders. For public safety, cars are not allowed to move within the closure and nearby car parking is provided. Recent footfall surveys have shown over 1,000 visitors per day come to Queensway and we have received positive comments from local shoppers and businesses.
Our aim has always been to protect public safety during the Covid-19 pandemic. Shoppers, visitors and workers should feel safe on the high streets during these unprecedented circumstances. The worst thing for all businesses would be a return to the lockdown measures we experienced earlier this year so we are working hard to prevent this from happening.
"We'll continue to listen to the comments, suggestions and feedback from local councillors, businesses and the public."