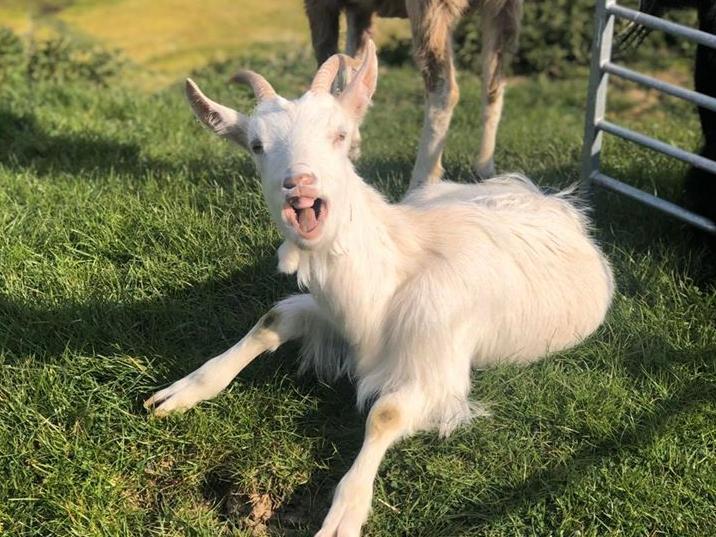 As well as being open to visitors, who must pre-book tickets, the farm is an adult social care provision and its clients have now returned.
The venue has been supporting adults with learning difficulties or mental health issues for more than 40 years and social care clients work across all areas of the farm to build their skills, confidence and independence. They can either work with the animals on the farm, in the Market Garden or the Food 4 Thought Café.
In 2019, Buckinghamshire County Council put the lease of Thrift Farm out to tender as it was no longer financially viable for the council to run. The Save Thrift Campaign caught the eye of the new joint venture partners and after a long tender process, Kids Play Ltd and Mead Open Farm were selected to secure the farm's future.
Happy goat at Thrift Farm
All visits by the general public help towards providing for the Adult Social Care provision.
Grant, one of the Adult Social Care Clients, said this week: "It's really great to be back at the farm and to see everyone again. I like being around the customers."
All the clients are working in bubbles, with allocated staff members to ensure social distancing at all times.
Paul Sharp, new director of Thrift Farm, said: " It is very exciting to open our doors again for both Adult Social Care and as a farm attraction.
A social care client hard at work on the farm
"Whilst we may have been closed, we have been very busy with stage one of our development plans. In the new Animal Contact Barn, we've added cows and calves which was a key request from our Adult Social Care Clients.
"We've also added a new outdoor play area, made from rustic wood. Thrift Farm has always been about connecting with nature and we are very keen to retain this".
Children can meet goats, cows, calves and sheep within the new Animal Contact Barn and say hello to even more ponies, alpacas and sheep on the new Paddock Walk.
The Food for Thought Café has also seen investment with an upgrade to Barista Style Coffee and the menu continue to offers a range of local and homemade snacks, treats and meals.
Fun in the play area
Social distancing measures have been introduced and booking is online only to enable visitor numbers to be restricted. There are also one way systems and hand sanitiser station.
For more information on Adult Social Care or families wanting to visit the farm park is here .
Preparing to feed the animals